The Feasibility Study is the starting point of every project. This process establishes the physical and financial viability of the development, exploring constraints and opportunities available. Whether the study is for a single residential, a multi-residential, a mixed use, a commercial, an industrial or an institutional project, a Town Planning report is commissioned, in order to establish the legality of the intended development. Real estate advice and property valuations are sought to determine financial yields, market trends and site specific return opportunities. Topographical characteristics and available services infrastructure are determined through the commissioning of a Contour and Detail Survey by a professional surveyor. This information prevents costly surprises at later stages of the project.
Depending on the specific characteristics and location of the site, there may be additional studies required. However, once all required information is compiled, Architectural Nature could assist the client in producing the Project Brief. The Project Brief sets the parameters for the following stages of the design process, providing a clear scope and budget.
This service is generally offered for large scale or complex projects. Master Planning defines spatial provision and services infrastructure required to support future stages of an overall complex. Distribution and relationships between the different components of the project are studied taking into consideration future demand and budget availability. Detailed design of each component is then carried out in a progressive and structured manner. This process also allows obtaining approval from relevant authorities for the entire development, instead of seeking individual planning approvals for each component. Architectural Nature has extensive experience in working with government and non-government organisations in the master planning and execution of education and health facilities, as well as large residential developments for public housing. The decision of staging a project and go forth with Master Planning is generally reached after conducting a Feasibility Study.
From the Feasibility Studies conducted, we identify constraints and opportunities for our projects. Through technical and professional advice, together with the identification of the client's desires, a design brief definition exercise takes place. A budget is set and scope of works is defined, giving our clients the opportunity to make the best informed decision in order to move forward to the next stages of the project. During the next stage, Schematic Design, Architectural Nature, on behalf of the client, engages and coordinates a team of consultants that work together towards definition of the design. Once this stage reaches agreement and approval from our client, we progress to the next stage of Design Development. In this stage we proceed with the final design definition, achieving a high level of detail and coordination between all disciplines. This enables us to produce a high standard documentation that will help to reduce risk and expenses during construction stages.
A high standard documentation facilitates the project flow reducing risks and extra costs.
Architectural Nature is committed to producing high standard documentation which is easy to comprehend yet contain all necessary information to bring the project to fruition. The documentation is generated by our experienced team of draftsmen, proficient in the latest CAD and computer technology. We also have a team with a great deal of experience in the production of project specifications. All documentation is coordinated and directed by an experience architect. We work closely with Australian Standards and we are in constant study and research of new materials, products and technology.
Coordination during design, documentation and construction is necessary for a timely delivery of a project within a set budget.
As Principal Consultants, our responsibilities are the day to day management of the design and documentation of a project, including coordination of all secondary and sub consultants work. Architectural Nature also ensures the coordination, integration and completion of the project within program's timeframes and budgetary requirements.
Contract Administration is undertaken during the construction and delivery stages of a project. The contract is managed on behalf of our client, the Principal to the contract. The Principal is the legal entity entering into the construction contract with the building contractor. The purpose of contract administration is to:
Manage the delivery of a capital project and associated works in accordance with the approved contract documents.
Ensure the contractor fulfils its responsibilities, duties and outcomes in accordance with documented requirements, the contract itself, and statutory requirements.
Ensure that the building contractor is properly paid for works suitably carried out.
The Principles of contract administration apply to all forms of procurement such as standard forms of contracts (with a lump sum), design and construct, construction management and any other form of legal contract within the state of Queensland.
Where alternative procurement methods are used, contract administration requirements will vary according to contract terms and conditions. Contract Administration practices may need to be tailored for alternative arrangements such as for Public Private Partnerships, maintenance & performance contracts and minor works contracts or any other relevant alternatives.
Post Occupancy Studies consist of a series of inspections and interviews with the users of recently completed construction projects. This process aims to measure user satisfaction as well as identify design issues apparent only after a project completion. Through this process, clients can learn valuable lessons for future developments of similar characteristics. As a result of Post Occupancy Studies, clients can also evaluate the effectiveness of their procurement processes and their internal and external communication protocols. These studies are particularly useful for clients in a position where they are responsible for building infrastructure that is to be administered or managed by others. In addition to providing this service, Architectural Nature could also assist client organisations in the production of Design Standards based on records of Post Occupancy Studies of facilities already in operation.
We can design for a wide range of residential projects. Whether you want to build a home on a small lot, to split level homes, or multimillion dollar houses we can help. Our team conducts thorough site investigations and family interviews to design you a home your family will love.
Renovations present an exciting opportunity to rejuvenate your home. Whether you want to restore a historical home or bring your home up to date we are experienced in designing incredible interiors which you will love.
From multi-level office buildings, to light industry conversions into office, hotel, and heritage conversions, our team can assist you in creating a commercial space which is perfect for your needs while featuring a low carbon footprint.
We have worked on a series of townhouse developments across Queensland, delivering designs inspired by nature. This resulted in an attractive development which provided great returns and a great place to live.
We take great care to ensure our multi-residential apartment buildings are designed for the needs of the market now and into the future. Our team designs spaces which are comforting and relaxing to live in, wrapped in a building which compliments surrounding nature.
No two businesses work the same, so we create custom made interior spaces for your workplace. Our interiors are inspired by nature providing a relaxing environment, improving employee morale and comfort.
Our team can design a beautiful, practical, and sustainable interior for your home renovation or new build. We create a design inspired by nature to bring a relaxing, calming environment within the home. A space you will love to be in.
Good design is essential in hospitality and retail. We look to achieve your vision for your store, bringing it to life with sustainability and practicality features to make sure the space is loved by you and your customers.
An important aspect to any design is the landscaping. The landscaping on any property is the grand entrance which should complement the architecture and beckon guests inside. We believe that the landscaping should be considered from the early design phase of the property to reap the full benefits.
Designing cyclone shelters can be complicated. We have an experienced team who has delivered innovative and cutting edge designs for cyclone shelters across Queensland to the state government. These can withstand category 5 cyclones and double as a multi-purpose court.
We work across Australia.
We have worked on a wide range of projects across Australia. From residential, commercial, educational, and cyclone shelters. Our team understands Australia, so we design for the unique conditions to ensure your building has as minimal impact on the environment as possible while being fit for use.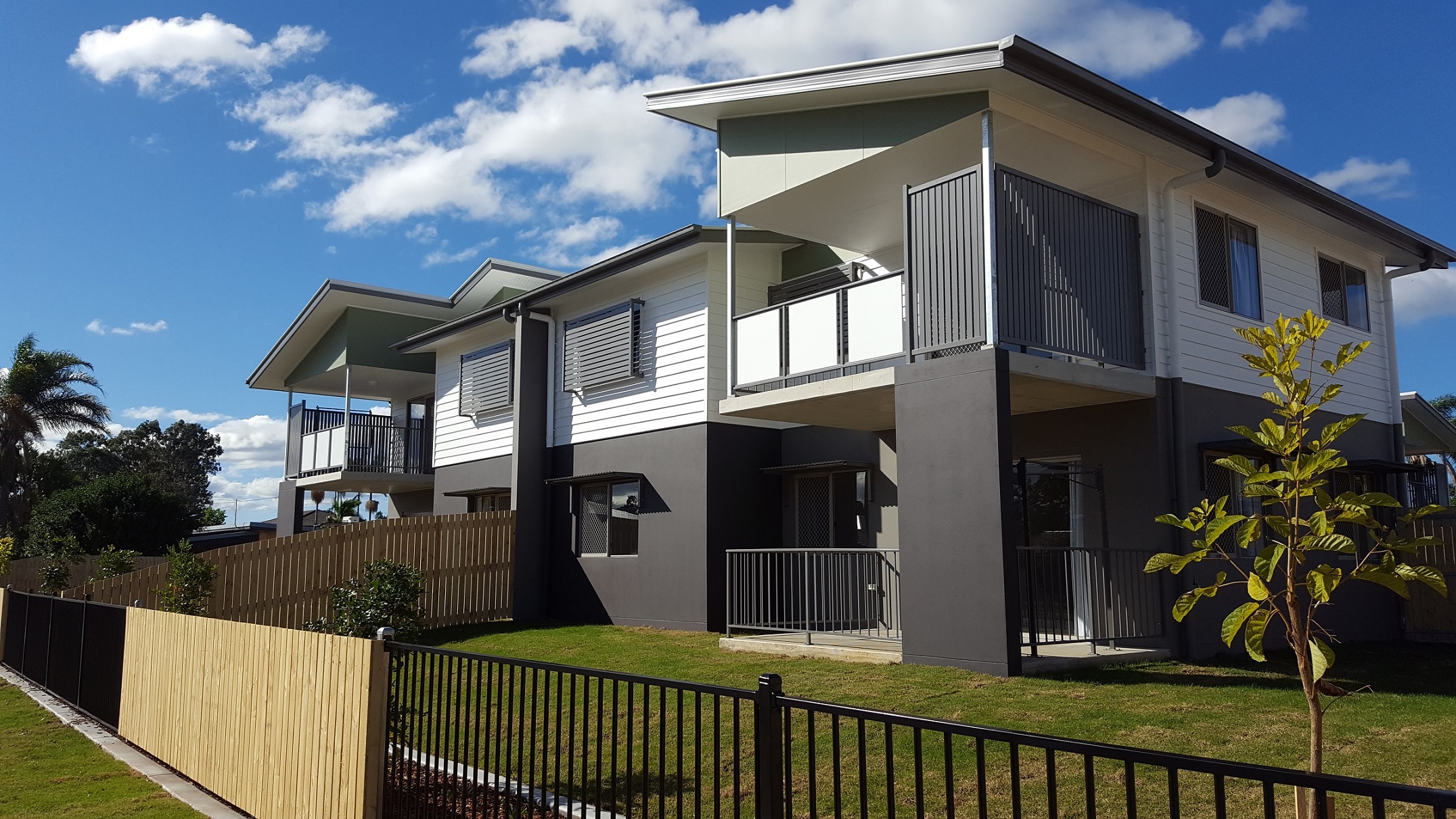 For a home or residential building design inspired by nature reach out to our team. Simply fill out the contact form or send us an email and our team will reach out to you as soon as possible.